Arms Race

---

Description
On drone action: 9% chance for drones to fire missiles and mortars
Stacking
Increases chance of firing artillery

Unlock

HAN-D: Kill 10 enemies with FORCED-REASSEMBLY simultaneously.

Rarity

Uncommon
Type
Support
Damage Type
Explosive
Pickup Text
Drones are equipped with explosive weaponry.
The
Arms Race
is an
uncommon
support
item in
Risk of Rain
and deals
explosive
damage.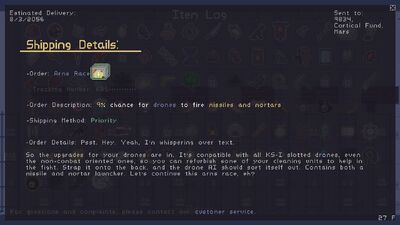 Note: Healing drones are not affected, and drones with higher fire rate trigger more often. This means basic and assault drones benefit more than a laser drone.
Character Synergies
Edit
---
Item Synergies
Edit
---
This item will unlock as any character when you farm enemies at Boar Beach.
Ad blocker interference detected!
Wikia is a free-to-use site that makes money from advertising. We have a modified experience for viewers using ad blockers

Wikia is not accessible if you've made further modifications. Remove the custom ad blocker rule(s) and the page will load as expected.