Boxing Gloves

---

Description

(6%)

 

On hit

: Hitting enemies have a 15% chance to

knock them back.

Stacking
6% multiplicatively increase in knockback chance

Unlock

Not Locked

Rarity

Uncommon
Type
Offensive
Pickup Text
Chance to knock enemies back.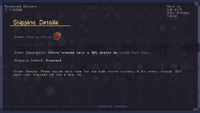 The Boxing Gloves is an uncommon offensive item in Risk of Rain. On hitting an enemy, the player has a 6% chance to knock them back. The power of the knock back depends on the attack used; the stronger the attack, the further the knock back.
Shipping Details
Estimated Delivery:
7/7/2056

Sent to:
O.B.-GYM
Slam Station,
Venus



  Shipping Details:       

Tracking Number:  362

▪▪▪▪▪▪▪▪▪▪▪

-

:  

Hitting enemies have a 15% chance to

knock them back.

-

:  These should work fine for the kids you're training. A bit musty, though. It'll make your trainees hit like a pro, ha!

70
Character Synergies
Edit
---
Boxing Gloves work perfect for characters that are ranged and require 'kiting':
Boxing Gloves are also great on people that have a lot of Area of Effect (AoE) damage:
Item Synergies
Edit
Works well in synergy with Permafrost, causing frozen enemies to be knocked back further.
---
Ad blocker interference detected!
Wikia is a free-to-use site that makes money from advertising. We have a modified experience for viewers using ad blockers

Wikia is not accessible if you've made further modifications. Remove the custom ad blocker rule(s) and the page will load as expected.