Energy Cell

---

Description

When at low heath

: Increased

attack speed

by up to

40%

at

lower health.

Stacking
Increases attack speed bonus when triggered

Unlock

Not Locked

Rarity

Uncommon
Type
Support
Pickup Text
Attack faster at lower health.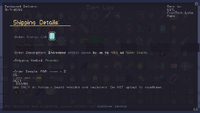 The Energy Cell is an uncommon support item in Risk of Rain. that activates at low health.[1] When below 50% health: increases attack speed; maxes out at 10% health with +40% attack speed. Misc Info: When below 50% health with this item, the player shimmers blue, similar to the Soldier's Syringe.
Shipping Details
Estimated Delivery:
11/9/2056

Sent to:
6511,
CronTech Labs,
Mars



  Shipping Details:       

Tracking Number:  667

▪▪▪▪▪▪▪▪▪▪▪

-

:  

Increased

attack speed

by up to

40%

at

lower health.

-

:  FOR: ----- - J.

CC

: ---- ---- - ---

ACCT

: 200158

Use ONLY in fusion - based vehicles and machinery. Do NOT upload to mainframe.

45
Character Synergies
Edit
---
Item Synergies
Edit
---
References
Edit