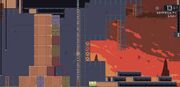 Abilities
Edit
DRONE

will auto target the nearest enemy. You don't need direct visibility. Keep in mind that you can only have up to ten drones at any moment, so try to use them only in an emergency for immediate healing. Note: HAN-D's drones will be reset to 0 on entering a new level.
While HAN-D doesn't have the ability to dodge or block, the drones are capable of healing. Try to save at least two just in case you need a sudden chunk of health restored.
When not doing a solo run,

FORCED_REASSEMBLY

can stun a large crowd of monsters, allowing others to deal massive damage to a confined area. Mastering your timing on this skill can give you a good crowd controlling method. Since this ability has a wind up time is recommended to jump in the air before using it.
It is important to acquire items that increase mobility and attack speed to make up for your crippling lack in both categories without the benefit of

OVERCLOCK

.  Warbanners are extremely effective, providing a buff to your already high attack stat and also giving you a significant boost in attack speed.  
Unlike other melee-focused classes, HAN-D, at base fire rate, can't stun-lock enemies using only its standard attack, thus making items that boost the attack speed stat like the Soldier's Syringe exceptionally valuable.
May be a reference to Mr. Handy from the Fallout series.
Ad blocker interference detected!
Wikia is a free-to-use site that makes money from advertising. We have a modified experience for viewers using ad blockers

Wikia is not accessible if you've made further modifications. Remove the custom ad blocker rule(s) and the page will load as expected.