Map variants
Edit
Main article: Command#Unlock
The artifact gate can be found in the upper-rightmost corner of the map. Hanging from the ceiling is a series of invisible, climbable vines that periodically glow a bright pink. Jumping across is sufficient to unlock the Command artifact.
Bloated Survivor
Edit
Main article: Bloated Survivor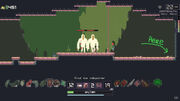 The Bloated Survivor can be found in the bottom-right corner of the map. Inspect the corpse to get the achievement. You will, however, fight 1-2 Archer Bugs upon inspection.
Soundtrack
Edit
Chanson d'Automne..
Tropic of Capricorn