Ifrit's Horn

---

Description

(8%)

 

On hit

:

8%

chance to

incinerate

enemies for

220% damage

Stacking
+30% damage.

Unlock

Dropped by Ifrit.

Rarity

Boss
Type
Offensive
Damage Type
Fire
Pickup Text
Chance to fire a flaming wave.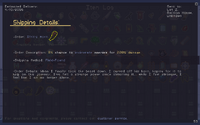 The Ifrit's Horn is a boss offensive item in Risk of Rain. On hitting an enemy, the player has a 8% chance to incinerate enemies for 220% damage and deals fire damage.
Shipping Details
Estimated Delivery:
4/10/2056

Sent to:
Lot Z,
Auction House,
Unknown



  Shipping Details:       

Tracking Number:  941

▪▪▪▪▪▪▪▪▪▪▪

-

:  

8%

chance to

incinerate

enemies for

220% damage

-

:  When I finally took the beast down, I carved off his horn, hoping for it to help on this journey. I've felt a strange power since obtaining it... while I feel stronger, I feel like I am no longer alone.

89
Character Synergies
Edit
---
Item Synergies
Edit
---
This, similarly to all of the other boss drops, still drops when the Command artifact is enabled.
Ad blocker interference detected!
Wikia is a free-to-use site that makes money from advertising. We have a modified experience for viewers using ad blockers

Wikia is not accessible if you've made further modifications. Remove the custom ad blocker rule(s) and the page will load as expected.