Instant Minefield

---

Description
Drop

6

mines at your feet, each dealing

400% damage

.
Cooldown
45 seconds

Beating Embryo

Effect
Drop 6 additional mines

Unlock

Not Locked

Rarity

Use
Pickup Text
Drop many mines at your feet.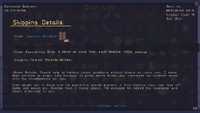 The Instant Minefield is a use item in Risk of Rain that places 7 (not 6) mines around you that will last for about 10 seconds.
Shipping Details
Estimated Delivery:
03/09/2056

Sent to:
HERCULES 29-5
Combat Zone 15
Sgt. Snd



  Shipping Details:       

Tracking Number:  814

▪▪▪▪▪▪▪▪▪▪▪

-

:  

Drop

6

mines at your feet, each dealing

400% damage

.

-

:  Should help in holding choke positions without losing so many men. I know that hercules is simply held because of pride; we've blown any resources we could've mined into the stratosphere by now.

Just simply lay it down and its smart-fire should prevent it from blowing your own legs off. Spits out about six. Realize that it takes about.. 45 seconds to reload the minelayer and about a second to arm.

94
Character Synergies
Edit
---
Item Synergies
Edit
---
Ad blocker interference detected!
Wikia is a free-to-use site that makes money from advertising. We have a modified experience for viewers using ad blockers

Wikia is not accessible if you've made further modifications. Remove the custom ad blocker rule(s) and the page will load as expected.