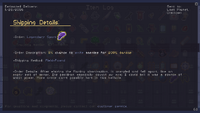 The Legendary Spark is a boss offensive item in Risk of Rain. On hitting an enemy, the player has a 8% chance to smite enemies for 200% damage and deals explosive damage.
Shipping Details
Estimated Delivery:
1/28/2056

Sent to:
Lost Planet,
Unknown




  Shipping Details:       

Tracking Number:  677

▪▪▪▪▪▪▪▪▪▪▪

-

:  

8%

chance to

smite

enemies for

200% damage

-

:  After slaying the flaming abomination, it crumpled and fell apart, like an empty suit of armor. Its pauldron especially caught my eye; I could tell it was a source of great power. More armor can't possibly hurt in this hellhole.

52
The Spark produces an effect identical to the Ancient Wisp's one attack. It's mainly useful in large crowds.
Character Synergies
Edit
---
Useful for melee classes and characters who will be attacking at a high rate, like the Huntress.
Item Synergies
Edit
---
Ad blocker interference detected!
Wikia is a free-to-use site that makes money from advertising. We have a modified experience for viewers using ad blockers

Wikia is not accessible if you've made further modifications. Remove the custom ad blocker rule(s) and the page will load as expected.