Meat Nugget

---

Description

(8%)

 

On hit

:

8%

chance to

drop 2 meat nuggets

that

heals for 2x6 health.

Stacking
+6 health per meat nugget.

Unlock

Not Locked

Rarity

Common
Type
Defensive
Pickup Text
Enemies drop chunks of healing meat.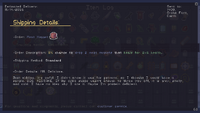 The Meat Nugget is a common defensive item in Risk of Rain. On hitting an enemy, the player has a 8% chance to drop 2 meat nuggets that heals for 2x6 health.[1]
Shipping Details
Estimated Delivery:
11/14/2056

Sent to:
1400,
Grahs Farm,
Earth



  Shipping Details:       

Tracking Number:  722

▪▪▪▪▪▪▪▪▪▪▪

-

:  

8%

chance to

drop 2 meat nuggets

that

heals for 2x6 health.

-

:  MM. Delicious.

Just kidding, it's awful. I didn't know it was petmunk, so I thought I would have a sample, BIG MISTAKE. If its cubic shape wasn't enough to trow you off, it is grey, smelly and cold. I have no idea why i ate it. Maybe I'm protein deficient.

9
Character Synergies
Edit
---
Item Synergies
Edit
---
References
Edit