Monster logs are items that drop in a difficulty higher than Drizzle. Monster logs give you access to pages in your monster log which gives you a brief report about the creature and stats. Collecting fifteen monster logs will unlock the
Huntress
. There is a total of 31 monster logs. 21 normal monster logs and 10 boss monster logs.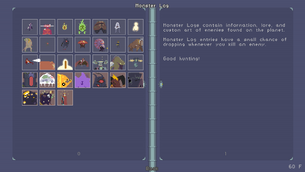 Ordered list of all monster logs:
There is multiplayer bug where players who already have a monster log can pick up invisible monster logs belonging to other players, even if they have unlocked the log they picked up. The log will be unlocked for the player that can see it not for the one that picked it up.
For farming Monster Logs, playing multiplayer may make them drop more frequently.
Ad blocker interference detected!
Wikia is a free-to-use site that makes money from advertising. We have a modified experience for viewers using ad blockers

Wikia is not accessible if you've made further modifications. Remove the custom ad blocker rule(s) and the page will load as expected.