Pillaged Gold

---

Description
Every monster in view drops

10 gold.

Cooldown
45 seconds

Beating Embryo

Effect
# of gold dropped (confirm)

Unlock

Bandit:

Kill a boss with "

Lights Out

"

Rarity

Use
Pickup Text
For 14 seconds, hitting enemies cause them to drop gold.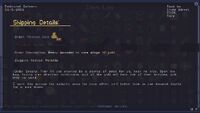 The Pillaged Gold is a use item in Risk of Rain that causes enemies to drop 1 gold when hit. (Ingame item log is wrong.)
Shipping Details
Estimated Delivery:
08/8/2056

Sent to:
Crisis Street,
2008,
Mars



  Shipping Details:       

Tracking Number:  815

▪▪▪▪▪▪▪▪▪▪▪

-

:  

Every monster in view drops

10 gold.

-

:  Yar! All yer enemies be a source of swag for ye, hear me true. Open the bag, facing o'er direction cutthroats, and all the gold will beck out of their britches, and into ye hand.

I sent this across the galactic seas fer your offer; ye'll better look in yar deepest depths for a wise trade.

80
Character Synergies
Edit
---
Item Synergies
Edit
---
Ad blocker interference detected!
Wikia is a free-to-use site that makes money from advertising. We have a modified experience for viewers using ad blockers

Wikia is not accessible if you've made further modifications. Remove the custom ad blocker rule(s) and the page will load as expected.