The Back-up

---

Description
Create

4 drones

to fight for you for

10 seconds.

Cooldown
45 seconds

Beating Embryo

Effect
+2 Drones

Unlock

GLOBAL:

Have 4 drone helpers at once.

Rarity

Use
Pickup Text
Call drones for back up. Lasts 10 seconds.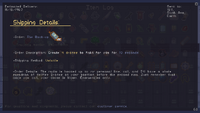 The The Back-up is a use item in Risk of Rain that summons 4 drones which will support you for 10 seconds before they blow up.
Shipping Details
Estimated Delivery:
11/15/1967

Sent to:
1511,
Sixth Ave,
Earth



  Shipping Details:       

Tracking Number:  823

▪▪▪▪▪▪▪▪▪▪▪

-

:  

Create

4 drones

to fight for you for

10 seconds.

-

:  The radio is hooked up to my personal line; call, and I'll have a whole squadron of Hellfire Drones at your position before the second ring. Just remember that once you call, your cover is blown. Emergencies only.

0
Character Synergies
Edit
---
Item Synergies
Edit
Upgraded drones will be summoned if holding Arms Race.
Ad blocker interference detected!
Wikia is a free-to-use site that makes money from advertising. We have a modified experience for viewers using ad blockers

Wikia is not accessible if you've made further modifications. Remove the custom ad blocker rule(s) and the page will load as expected.