Tough Times

---

Description
Increase armor by 14.
Stacking
+14 armor.

Unlock

Not Locked

Rarity

Uncommon
Type
Defensive
Pickup Text
Reduce incoming damage by 14%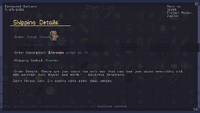 The Tough Times is an uncommon defensive item in Risk of Rain.[1] It grants the player 14 armor. With a single one of these, damage is reduced by ~12.3% (14/114).
Shipping Details
Estimated Delivery:
9/29/2056

Sent to:
18601,
Frozen Valley,
Jupiter



  Shipping Details:       

Tracking Number:  757

▪▪▪▪▪▪▪▪▪▪▪

-

:  "Bears are just about the only toy that can lose just about everything and still maintain their dignity and worth." - Samantha Armstrong. Don't forget, hon. I'm coming home soon. Stay strong.

9
Character Synergies
Edit
---
Item Synergies
Edit
---
The pickup text mistakenly states that the item reduces damage by 14%, when the item actually gives you 14 armor.
References
Edit